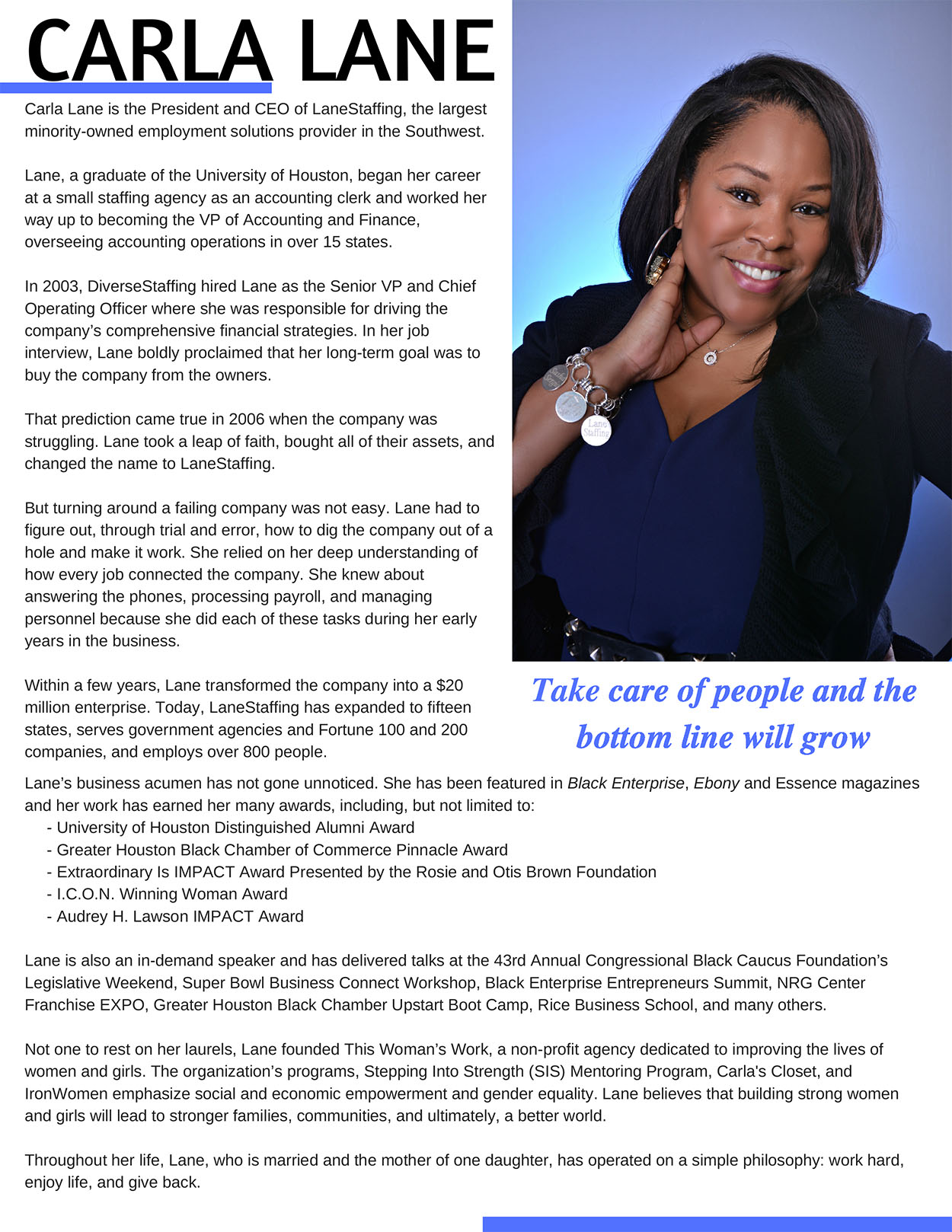 Resume
Summary:
Carla Lane is President and CEO of LaneStaffing, the largest minority woman owned employment solution provider in the southwest. In addition to her leadership of LaneStaffing, she is the founder of This Woman's Work a 501(c)3 organization serving women and girls. She holds numerous leadership roles in professional and community organizations.
Current Role:
Lane was hired as Senior Vice President and Chief Operating Officer of DiverseStaff in 2003, where she was responsible for the company's overall financial strategy and financial processes as well as branch operations in Houston, Texas. Lane purchased the brand name in 2006. Since that time she has transformed its business strategy, adding new higher-margin business lines and increasing community involvement. In 2008, Lane expanded the service offerings and rebranded the firm "LaneStaffing." Lane's overall business strategy is "take care of the people and the bottom line will grow."
A firm believer of supplier diversity, Lane sets high goals while she keeps high standards intact. She oversaw the implementation of an enterprise-wide technology system to allow the firm to realize greater operating efficiencies and profitability improvements. This makes it possible for the firm to bid and win business in markets for which technology infrastructure is essential.
Under Lane's leadership, LaneStaffing has expanded the footprint of the organization and expanded its client base of Fortune 100 and 200 clients. It is now a leader in government contracting.
Previous Employment:
Lane began working in the staffing industry while attending the University of Houston as an accounting student. In 1993, she became the first staff member of BestStaff Services, then the largest minority owned staffing firm in the South. She worked as an accounting clerk until completing her education at the University of Houston and accepting a full time position as Accounting Manager in 1996. When the business was rebranded as DiverseStaff, she was Vice President of Accounting and Finance and was responsible for accounting operations in 15 states.
Accomplishments and Awards
Lane is an American Staffing Association, Certified Staffing Professional.
Author, two monthly columns, "The Right Lane" and "Ask Carla" for several Business Journals.
Lecturer, annual Career and Education Seminar, Dallas, Texas
Top 30 Women of Houston, 2016
LaneStaffing named #28 in the inaugural class of the Cougar 100, a list of the 100 fastest growing companies owned by University of Houston Alumni, 2014
In 2012, Lane was inducted into the Greater Houston Black Chamber of Commerce's Hall of Fame.
Lane was featured by Ebony magazine in its "Black Wealth" issue, September 2013
Featured in Forbes Magazine, 2014
Named one of the Minority Achievers by the YMCA, 2010
Vanguard Award, Texas Business Alliance, 2010
Class of 2009, 40 under 40, Houston Business Journal
2009 Distinguished Alumni Award, University of Houston
"25 Top Women in Houston," Rolling Out Magazine, 2008
2008 Strategic Teaming Award, Houston Minority Supplier Diversity Council
Emerging Ten Award, Houston Minority Supplier Diversity Council, 2008
Pinnacle Award, the highest award for entrepreneurial excellence, Greater Houston Black Chamber of Commerce, 2007
LaneStaffing named one of the Top 500 African American-Owned Companies in the US and one of the Top 100 Woman owned firms in Texas by DiversityBusiness.com, 2009, 2010 and 2011
Community Involvement
Founder, This Woman's Work a 501(c)3 organization, whose mission is to better the lives of women and girls, through education, exposure and mentorship.
Institute for Family Renewal board member
Family Press board member
Texas Black Expo Board of Directors
Greater Houston Black Chamber of Commerce Advisory Board
Texas Business Alliance Advisory Board
Economic Development Advisory Committee for District D, Houston, Texas; and chair, "The Empower U School Tour" to encourage high school students to continue their education post-high school.
Across the Track PAC, a political action committee comprised of the owners of Houston's largest African American owned businesses, first female member.
Member, Delta Sigma Theta Sorority, Inc.,
Member, National Women's Presidents Organization
Member, the National Coalition of 100 Black Women
Member, National Association of Female Executives
Member, American Staffing Association,
Member, Texas Association of Staffing
Member, National Human Resource Association
Member National Women's Presidents' Organization
Narrative
Life journey/personal history
My Family: "Work Twice as Hard and Do the Right Thing"
Born in Lake Providence, Louisiana, my father Eddie B. Lane grew up in an area Time magazine once called one of the poorest places in the country. Determined to make a better life for himself, he moved to Dallas, Texas at the age of 19. His mother—my grandmother—paid for his bus ticket and told him to "leave and don't come back." His instructions were to go to barber school, because she was sure he could make a living as barber. People would always need their hair cut and their beards shaved. He was homeless at first—he stayed in a room at the YMCA. He ate only one meal a day.
To put himself through barber school, Dad worked as a janitor at a dress factory. That's where he met my mom, Betty Washington-Lane. They both ended up becoming barbers, and worked long hours to create the life they wanted, and to support their dream of graduating from college and creating a beautiful family. Dad was the first person in his family to go to college, earning his bachelor's degree in History from the University of Texas at Dallas. He went on to earn his master's degree and then his PhD from Dallas Theological Seminary. In 1963, he founded Bibleway Bible Church of Dallas.
I still treasure photos I have of me with my dad, in which I'm holding each of his diplomas. At the time of his death, he was associate professor emeritus of Pastoral Ministries. During his time at DTS, he was instrumental in developing the Urban Ministries emphasis in the Master of Theology (ThM) program. Author of seven books, he served in the leadership of several community organizations. My mother became a stay-at-home mom after Daddy completed his education, and made sure that our home was always a safe place for our family, full of love and encouragement.
My Mommy and Daddy have always been my greatest inspirations, not just for their accomplishments but for their wisdom, faith and unconditional love. "You can do whatever you want to do," they always told my brother and sister and me. You may have to work twice as hard as everyone else, but put in the work and watch what God does." My parents raised us to "do the right thing" by being aware of needs in the community and taking care of others.
Bouncing Back from a Major Crisis
I attended the University of Houston and graduated with a degree in accounting in 1996. While still a student, I worked as an accounting clerk at a minority-owned staffing company. After graduation, I accepted a full -time position as accounting manager for that same company. I was later promoted to vice president of accounting and finance.
I got married and had a daughter, Darian. But by the time Darian was two, my marriage was failing and so was the business. I didn't have many friends in Houston and I felt like everything was falling apart.
I asked my parents if I could come home to Dallas. I was feeling defeated and needed their comfort and encouragement. I got some "tough love" from my dad. "You can come home to rest, but not to stay," he told me. So I went home to nurse my wounds. While I was there, I got some wisdom and a pep talk from my dad. "Do not let anyone run you out of Houston!" he advised. "You are running someone else's company. They know you are running the company. You just don't know it!"
So what happened? Not only did I go back to Houston, but by 2003 I was able to buy the company I'd been working for. I had seen how the business was run. I saw its possibilities, and saw what I could do differently to make it a success. It's been LaneStaffing ever since.
More Than a Staffing Company
Since I became owner, president and CEO of LaneStaffing I have expanded the company's footprint. We have become a leader in government contracting. Among our clients are cities, government entities, utilities, oil and gas companies and we have a growing client base of Fortune 100 and 200 clients. We fill more than 1,100 temporary jobs annually in 15 states, and we generate $20-$25 million a year in revenue.
We are now a comprehensive employment-solution provider. LaneStaffing is a Certified Minority and Women-Owned Business Enterprise (MWBE).
We're more than a staffing company. What makes us unique is that we make the connection between staffing and community. Because of the needs I identified early on, and thinking back to my dad's example of caring and serving, we offer prospective employees the kind of help they wouldn't otherwise get from a recruiting company or job placement service. For example, we host an annual job fair which connects hundreds of job seekers with government agencies, Fortune 500 companies, and small businesses.
The extra kinds of support we offer our employees—we call them associates—were born out of an awareness of some of the jobseekers' greatest needs. I discovered that once we put someone to work, they would take their paycheck to a check-cashing service. They'd have to pay a fee to cash the check and by midweek they'd be broke. So we stopped issuing paper paychecks, and use paycards, along with important added advice on how to use the paycards to pay their bills and avoid getting hit with high fees. We also reload the cards electronically so associates don't have to come in to the office to get paid. It's something those of us with bank accounts and direct deposit don't even think about. But for these clients the card, plus education on how to use it, can mean the difference between scraping by and finally getting ahead.
I tell my associates that staffing is a people business, and when we focus on people, the numbers fall into place. Our "inventory" is people, we have to invest in people, whether we ever put them to work or not. When they first come to us, they're often at a low spot in their lives. They want to work, but I can tell right away when someone comes in with slouched posture, giving yes or no answers to questions, that I need to have a conversation with them to help them have successful interview.
Since margins in the staffing industry are very thin, some traditional firms don't take as much time for screening prospects. They throw a lot of people at jobs and don't really get involved in what it will take to keep them in those jobs. The way we're different is that we are attentive to the other
needs, beyond just the need to work. We take time learning about each jobseeker's situation, we make time for conversations that will help us find them a job they will stay in. The connection we make with the people we serve is one of the reasons we've grown.
This Woman's Work: A Vision to Serve Houston
In 2010 , I founded "This Woman's Work," a nonprofit 501(c)3 organization with a vision to create a community in which all women are given the opportunity to become independent and successful. This Woman's Work provides access to career opportunities, mentoring and encouragement. It is housed within our corporate office in Houston.
Very early on in the staffing business, I would see women who were looking for work who did not have the skills to get a living wage. Sometimes they didn't have the right clothes. Or they'd made some bad decisions that made it very difficult for them to even get in the door of a good job. This touched my heart and I wanted to do more.
One of the programs of This Woman's Work is called Carla's Closet. The idea behind it came about when I saw that women weren't able to get nontraditional work wear from local assistance ministries and agencies. The women I wanted to help most were the ones who didn't need suits, dresses or high-heeled shoes. They needed polo shirts, steel-toed boots or scrubs or khaki pants to wear to work right away. The right clothes make so much of a difference. It broke my heart to see women get a job, but then be unable to sustain it because they weren't able to dress appropriately.
So Carla's Closet fills a gap. It is set up like a store. The clothes are new or gently used, clean and pressed. This allows women to shop for the clothes they need, without losing their dignity. When they choose something, we put it on a hanger, not in a big trash bag. This is so important to me. I think back to when I was a child, when I would get my cousins' hand-me-downs. I didn't want the experience to be like that. It's a gift, not a giveaway, I tell them. It gives me chills when we are able to help someone because it's a way for our associatess to go to work, be successful, and change their lives.
Another project we do as part of Carla's Closet, under the This Woman's Work nonprofit is Project Prom in Houston Independent School District (HISD). I'm the mom of a teenage girl now, and I understand how important it is to be able to go to the school prom. What many people may not realize is how many homeless children there are in HISD. They may be sleeping outside or in a shelter, or they are staying with friends, sleeping on an aunt's floor. There may be no traditional parents in the picture, and certainly no extra money for a prom dress. The first year, a friend opened up her art gallery on a Sunday and we hosted a dress collection event. It was phenomenal. People I'd never met showed up to donate. Our Project Prom project collected more than 300 prom dresses and several hundred pairs of shoes, so girls could go to their high school prom.
This Woman's Work does a great deal of outreach in the community. One of the efforts I'm especially excited about is Stepping Into Strength (SIS), a mentoring program for high school girls. We started this two years ago at Madison High School. The school population is predominately low-income African-American and Hispanic. I've enlisted my friends, business owners, newspaper publishers, counselors, and doctors to participate as mentors and trainers. They willingly invest their time in these eager students. (We call ourselves "iron women" because iron sharpens iron!)
The second Saturday of every month, the Stepping Into Strength group meets for education, training or field trips. For example, we had a nurse come in to do CPR training and by the end of the day, all the girls earned heir CPR certification. We have hosted a robotics training camp with women engineers from UT. Fifty high school girls got up early on a Saturday, took a bus to southeast Houston and learned how to build and program robots. It was awesome to watch. On one of our trips, we went to Churrasco's restaurant. Some of the girls had never ordered from a menu, so they learned that. And then the manager, a Hispanic woman, came out to talk about her job and how she got to the role in which everyone reports to her. When she told her story, it was great to see the light flicker on for these students. Stepping Into Strength is near and dear to my heart. We are allowing young women see what success looks like, and we're helping them equip themselves for their own success, far beyond what they might have envisioned for themselves at first.
Most significant professional achievements
Lane has won numerous awards and honors. In 2007, she received the Pinnacle Award, the highest award for entrepreneurial excellence by the Houston Citizen's Chamber of Commerce. Lane was named one of the "25 Top Women in Houston" by Rolling Out magazine in 2008, and awarded the 2008 Strategic Teaming Award by Houston Minority Business Council, for her work with "teaming" with other minority-owned organizations to provide quality solutions to her clients. She also was awarded the Emerging Ten Award by the Houston Minority Business Council in 2008. The firm was named one of the Top 500 African American owned Companies in the U.S. and one of the Top 100 Woman-owned firms in Texas by DiversityBusiness.com in 2009, 2010 and 2011.
Lane also was awarded the 2009 Distinguished Alumni Award by the University of Houston. She was listed as one of 40 distinguished Houston area business leaders under 40 (40 under 40) by the Houston Business Journal in 2009. In 2010, she was named one of the Minority Achievers by the YMCA, and in 2010 earned the Vanguard Award from the Texas Business Alliance. In 2012, Lane was inducted into the Greater Houston Black Chamber of Commerce's Hall of Fame. Lane was featured in the September 2013 issue of Ebony magazines "Black Wealth" issue. In 2014, her firm was a part of the inaugural class of the Cougar 100, a list of the 100 fastest growing companies owned by University of Houston Alumni, LaneStaffing was number 28. Certified MWBE
Community service and/or cultural involvement and accomplishments
Founder, This Woman's Work a 501(c)3 organization, whose mission is to better the lives of women and girls, through education, exposure and mentorship.
Partnership with Texas Black Expo to host a Job Fair that connects hundreds of job seekers with government agencies
Delta Sigma Theta Inc.
Habitat for Humanity
HISD – Library for Elementary School
Houston Area Urban League
Greater Houston Black Chamber of Commerce Advisory board
Circle of Red, American Heart Association
Women Presidents' Organization
(additional community service activities included on resume)
Other relevant information
I believe that when you are successful, you are responsible for sharing that success. When you do good, it comes back to you.
When I was trying to preserve my marriage and then went through a divorce from my daughter's father, many women reached out and supported me. Through that turmoil and hurt, I developed great empathy for other women going through difficult times. I've conquered, and I've survived. I understand the importance of investing in other women because so many have invested in me. When you are blessed, you have to give it away. When you treat people well and invest in yourself, dreams can come true.